CRDF FUNDED GLOBAL FUNDED PROJECT MANAGEMENT TRAINING FOR CANCER RESEARCHERS IN SUB-SAHARAN AFRICA
September 8, 2020
Posted by:

IHVN

Category:

update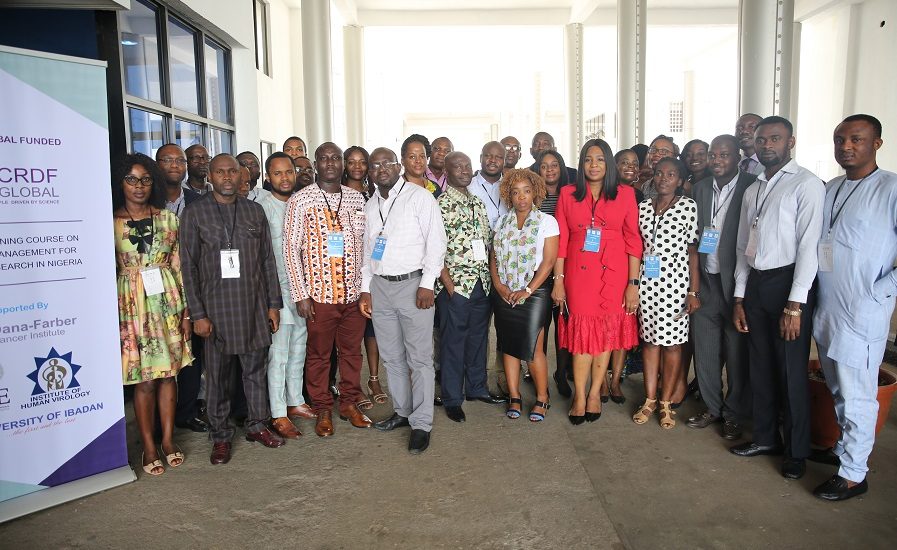 35 people, cancer researchers, project managers and research project coordinators from University of Abuja Teaching Hospital Abuja, IHAB, Institute of Human Virology, Abuja, University of Benin Teaching Hospital, University College Hospital Ibadan, Oyo State, Nigeria, Korle-Bu Teaching Hospital, Accra Ghana, 37 Military Hospital, Accra, Ghana, Hôpital Général de Grand Yoff, Senegal, University of Botswana, Botswana and Stellenbosch University, South Africa, participated in a 4 day Joint Training Course on Project Management for Cancer Research in Sub- Saharan Africa.
The training was funded by CRDF Global through National Cancer Institute's Cancer Research Training Travel Grant for Low- and middle-income countries (LMICs) awarded to Dr. Elima Jedy-Agba, to facilitate and increase LMIC investigator ability to effectively manage, implement or conduct cancer research studies.
The workshop introduced participants to the Fundamentals of Project Management, Budgeting, and Budget Implementation, Risk Management, Scheduling, Data Management using REDCap, Outcomes and Impact Evaluation. Participants learned how to identify critical success factors and develop a risk assessment plan, project deliverables, milestones and timelines, budgeting, feedback & evaluation, and project closure. It was also a n opportunity for different researchers from different countries across Africa to share ideas on best practices from their personal experiences.
The course was delivered by experienced faculty members from Dana- Farber Cancer Institute, Boston USA, Holistic Project Management Consulting USA, Lambert Consulting Groups, USA, University of Ibadan, Nigeria, Ritetrac Consulting, Nigeria and Institute of Human Virology Nigeria.